US Secretary of Defense Arrives in Occupied Palestine to Monitor Arms Shipment
US Secretary of Defense Lloyd Austin visits "Israel", affirming the US unwavering support for the occupation.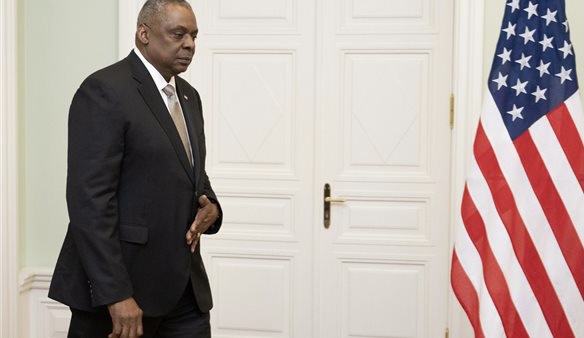 US Defense Secretary Lloyd Austin arrived in occupied Palestine on Friday for a visit aimed at demonstrating unwavering support and solidarity with the occupation. 
Austin's visit, his third as Pentagon chief, follows a recent visit by Secretary of State Antony Blinken.
During his visit, Secretary Austin is scheduled to hold high-level meetings with Israeli officials, including Prime Minister Benjamin Netanyahu and Security Minister Yoav Gallant. The trip aims to emphasize the United States' commitment to the Israeli occupation.
In a statement, the US Defense Department asserted that the visit underscores "the unwavering support of the US for the people of Israel and commitment to ensuring Israel has what it needs to defend itself."
Austin will also personally oversee the delivery of some of the weapons that the United States is sending to "Israel". 
"We have been surging support to them. Multiple shipments have arrived in Israel of materiel they requested, and another one will arrive today and more over the coming days," a senior US defense official, en route to "Israel", stated. 
The official also revealed that the United States is actively engaging with Israeli authorities on the issue of captives in Gaza, providing advice and assistance to address this critical concern.
Secretary Austin, speaking to journalists in Brussels on Thursday, highlighted that the United States had received no early warnings or indications of the Palestinian Resistance's operation. He further stated that there were no conditions placed on how the IOF could employ the weapons provided by the United States, citing his trust in the "Israeli leadership's professionalism."
Israeli expert in Palestinian affairs, Alon Avitar, expressed concern over the IOF's inability to achieve significant results despite the intensive strikes on Gaza.
Israeli media reported today, Friday, that Operation Al-Aqsa Flood has neutralized 258 soldiers in the IOF so far. 
"What we see does not significantly impact Hamas' military capabilities. Hamas leaders, rocket launchers, and weapons production facilities remain untouched, and not every structure brought down in Gaza is a military target," Avitar said. 
Furthermore, Channel 12's military correspondent, Nir Dvori, noted that the IOF still doesn't know the location of the rocket attacks until after they have been launched.