International Solidarity With Gaza and Palestinian Resistance
Demonstrations in several Arab and European countries express solidarity with Gaza, condemning Israeli military aggression.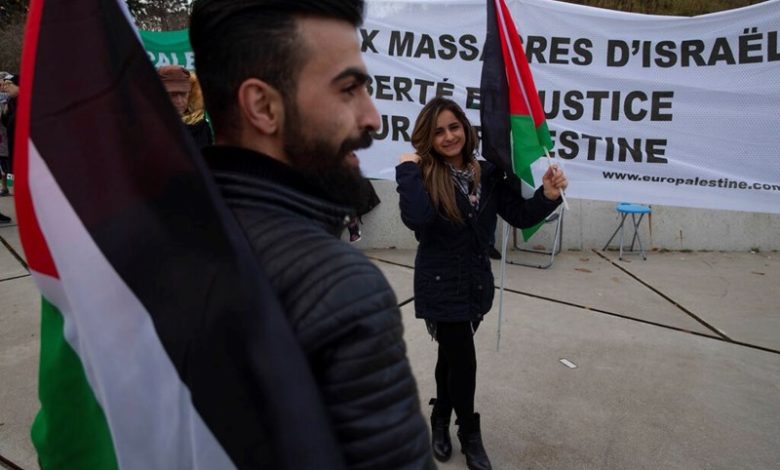 Demonstrations in solidarity with Gaza were held in several Arab and European countries. 
In support of Operation Al-Aqsa Flood launched by the Palestinian resistance last Saturday, supportive rallies were organized in Damascus, where Syrians came out in solidarity with Palestinians and their right to defend their land.
The Syrian Student Union organized solidarity and support demonstrations at the universities in Damascus, Aleppo, Tishreen University in Latakia, Baath University in Homs Hama and Tartous, and the Euphrates University in Latakia, with the participation of tens of thousands of Syrian students.
The participants emphasized their solidarity with the Palestinian cause, the goal, and the path, praising the "achievements of the resistance in Operation Al-Aqsa Flood," calling on the Arab world to support the resistance. 
Similarly, the Student Union branch at Aleppo University organized a solidarity demonstration with Gaza under the banner: "Salutes to the heroic Palestinian resistance's victory."
Amman witnessed the largest demonstration in the city's history as thousands of protesters chanted loudly and angrily in support of the Palestinian resistance and Operation Al-Aqsa Flood.
In Tunisia, public school students organized massive rallies in support of Gaza and the Palestinian resistance. 
In Turkey, demonstrators carried aloft a large Palestinian flag and marched through the streets of Istanbul while chanting protest chants in support of Gaza and against Israeli occupation.
In Brazil, hundreds of Brazilian activists joined protests and solidarity rallies with the Palestinian people in cities across the country.
Activists in Chile shared scenes on social media of solidarity rallies that erupted in support of Gaza against the aggression of the Israeli occupation.
In Colombia, a number of citizens participated in solidarity marches with Gaza, calling for an end to the occupation of Palestine and chanting slogans for the freedom of the Palestinian people.
The participants in the solidarity event raised Palestinian flags, displaying banners with the inscriptions "Al-Quds is my home," "Resilient Palestine," and "The Palestinian cause is the cause of all Muslims worldwide."
Furthermore, crowds took to the streets of Milan in Italy in support of Gaza, with participants chanting slogans condemning the crimes committed by the occupation against Palestinian civilians following the Operation Al-Aqsa Flood.
Additionally, the Black Lives Matter movement in the United States expressed solidarity with Palestine and Gaza.
Activists affiliated with the movement posted an image of a Palestinian resistance fighter with a parachute bearing the Palestinian flag, in reference to the launch of  Operation Al-Aqsa flood.