Vladimir Putin: "West will think about our common future sooner or later"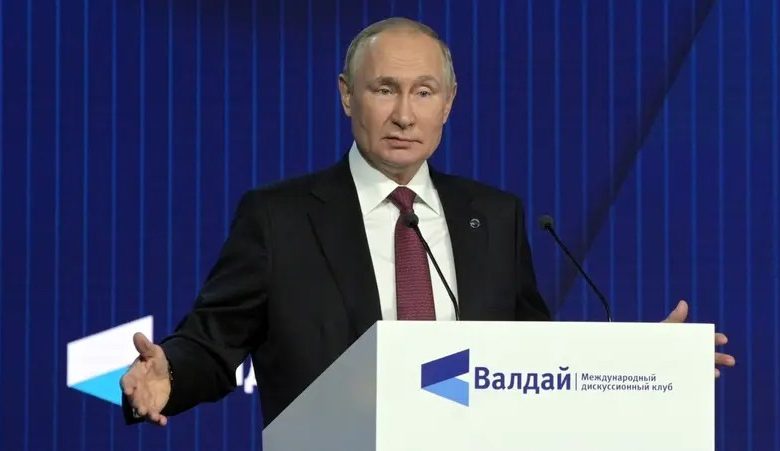 Russia President Vladimir Putin, attended the Valdai Discussion Club Meeting. Putin accused the West of imposing economic sanctions against its rivals because it could not compete.
Stating that the West could not deal fairly with the rising economic and political power of Asia, Putin claimed that Western countries threw aside the rules of international relations in order to maintain their sovereignty and hold the countries they saw as "second-class civilizations".
Putin continued his words as follows:
"Recent global events are heading towards systemic crisis, including in the economic sphere. We are witnessing war in Ukraine, instability in Taiwan. The West is playing a dangerous and bloody game. The global crisis affects everyone.
Sooner or later the West has to start talks about our common future. The West is trying to control the development of other civilizations. The West was blinded by colonialism. We tried to develop relations with the West and NATO and to establish friendships with them."
NUCLEAR WEAPON
While Putin challenged the West by saying, "As long as there is a nuclear weapon, there is always the danger of using it", regarding the Donbas, he said, "We have to join Russia, they cannot survive on their own."
RELATIONS WITH TURKEY
Putin also touched upon relations with Turkey in his statements. Stating that President Erdogan is a strong leader, Putin said, "We have many mutual interests with Turkey. "Erdogan and Turkey are not easy partners, but there is a desire to reach agreements," said Putin.
Russian President Putin announced last month the annexation of Luhansk, Donetsk, Zaporizhia and Kherson in eastern Ukraine.
PUTIN HAS ANNEXED 4 REGIONS IN UKRAINE AND DECLARED STRICT MANAGEMENT
Russian President Putin signed agreements last month to connect Ukraine's Donetsk, Luhansk, Kherson and Zaporozhye regions to Russia. After Crimea, Russia annexed about 15 percent of Ukraine's territory.
Calling Kiev to return to the negotiating table, Putin said, "Neither Ukraine nor the West can destroy our unity and integrity. Millions of people have made their decision." While the statement made by Ukraine said "We will save our lands", the EU emphasized that Russia's annexation would not be recognized.
On the other hand, Putin signed a decree to declare martial law in the annexed Ukraine's Donetsk, Luhansk, Kherson and Zaporozhye regions.
Reminding that referendums were held last month in Ukraine's Donetsk, Luhansk, Kherson and Zaporizhia regions to join Russia, Putin stated that the Ukrainian administration and Western countries do not want to accept the results of the referendums.