Washington to impose sanctions on Putin and and Lavrov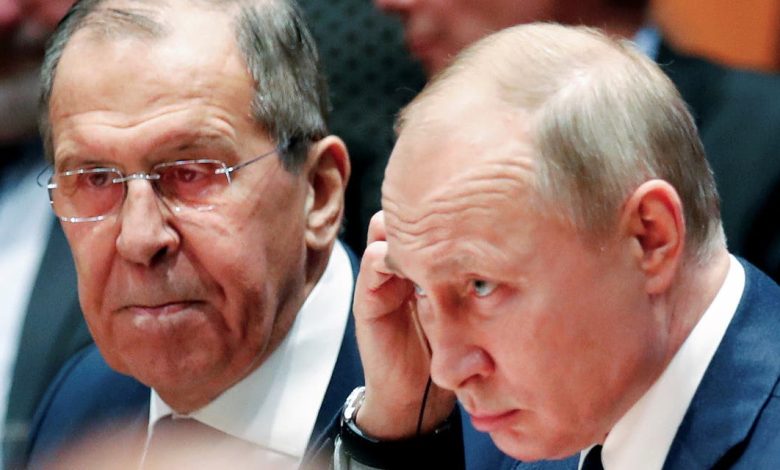 The 27-nation European Union said it planned to freeze E.U.-based assets of the two men. Britain and the United States didn't immediately release details of their measures. Neither official is believed to control extensive — or any — property in his own name inside the European Union. E.U. policymakers said they would freeze other property that the men control indirectly.
"Following a telephone conversation President Biden held with European Commission President Ursula von der Leyen and in alignment with the decision by our European allies, the United States will join them in sanctioning President Putin and Foreign Minister Lavrov and members of the Russian national security team," White House press secretary Jen Psaki said at a news conference. "I expect we will have more specific details out later this afternoon."
At great risk for Ukraine and Russia, Putin signals a dark endgame
It was not immediately clear which assets — and in which countries — the Biden administration plans on targeting. Psaki declined to address the specifics of Putin's assets on Friday, telling reporters only that the move "sends a clear message about the strength of the opposition to the actions by President Putin and the direction in his leadership of the Russian military."
A travel ban will likely be part of the U.S. sanctions, Psaki added.
Also on Friday, Prime Minister Justin Trudeau said Canada plans to sanction Putin, Lavrov and several members of Putin's inner circle.
She later announced that the U.S. government would impose "full blocking sanctions" on the Russian Direct Investment Fund, a sovereign wealth fund that for years has tried to foster the growth of Western-style businesses in technology and other cutting-edge sectors in Russia.
"These men bear the greatest responsibility for the death and destruction occurring in Ukraine," Trudeau told reporters in Ottawa. "We've made it clear that all options are on the table when it comes to imposing steep costs on Russia's unjustified and unprovoked invasion."
The E.U. decision was part of a larger round of sanctions to punish Russia for the invasion of Ukraine. It likely won't be the last step taken against the Kremlin during the conflict, policymakers said.
Neither man will be barred from traveling to the European Union, a step that in some ways would have been more concrete but could also have complicated any diplomatic settlement to the escalating violence that Russia is inflicting on its neighbor.
"Russia needs to see that it's going to be isolated from the international community," said E.U. foreign policy chief Josep Borrell, announcing the measures in Brussels on Friday.
Russia-Ukraine live updates: Russian forces press closer to Kyiv; Kremlin offers talks — on tough terms
Friday's measures join a fast-growing list of international condemnation of Russia's actions in Ukraine, whose president, Volodymyr Zelensky, has declared that he believes the Kremlin is trying to kill him.
Russia has also been excluded from the Eurovision song contest, its annual Formula 1 race has been canceled and the European Champions League has moved its soccer final from St. Petersburg.
"It may look a small thing from the geopolitical point of view, but it will have a wide social resonance," Borrell said.
The European Union has typically held back from directly targeting national leaders, except under extraordinary circumstances.
E.U. policymakers don't think Putin and Lavrov have assets in their name within the European Union, but that they do control assets indirectly. Officials intend to go after those assets, a senior E.U. diplomat said, speaking on condition of anonymity to discuss a sensitive intelligence issue.
Borrell acknowledged that there is "a whole lot of work that needs to be done" to track down assets.
The measures came after E.U. leaders met long into the hours of Friday morning to discuss how best to punish Russia for its actions. "The senseless suffering and loss of civilian life must stop," tweeted European Council President Charles Michel.
The bloc also imposed measures that it said would cut off 70 percent of the banking sector from the international financial system and make it more expensive to borrow money internationally. The effect, Borrell said, will be to drive up inflation in Russia and erode its industrial base.
"The package of massive and targeted sanctions European leaders approved tonight clearly demonstrates that it will have maximum impact on the Russian economy and the political elite," European Commission President Ursula von der Leyen said at a news conference after talks concluded early Friday.
But the measures held back on one key issue that Russia hawks say would be especially painful for Russia's economy — excluding the country's financial institutions from the SWIFT payments system. That would make it difficult for Russian banks and businesses to make international transactions, though it could also risk a cut off of Russian gas to Europe if payments for the fuel were blocked.
World leaders react to Russia's attack on Ukraine: 'A dark day for Europe'
On Friday, European politicians lashed out at the holdouts. Former European Council President Donald Tusk said Friday that some member countries had "disgraced themselves" by not hitting Russia harder, naming Italy, Hungary and Germany in particular.
In Britain, Prime Minister Boris Johnson also said that the United Kingdom will introduce sanctions against Putin and Lavrov "imminently," although he didn't give details on what form the sanctions will take.
Johnson told NATO leaders on Friday afternoon that "a catastrophe was engulfing" Ukraine and that Putin was "engaging in a revanchist mission to overturn post-Cold War order," according to a Downing Street spokeswoman. Johnson also urged leaders to remove Russia from the SWIFT international banking system to "inflict maximum pain" on Putin and his regime.