Egypt FM to Chinese counterpart: Major countries should play larger role in stopping Israeli war
Egypt looks forward to seeing a bigger role played by major international parties like China in halting Israeli attacks on Palestinians, Egyptian Minister of Foreign Affairs Sameh Shoukry said Monday during a meeting in Beijing with Chinese Foreign Minister Wang Yi.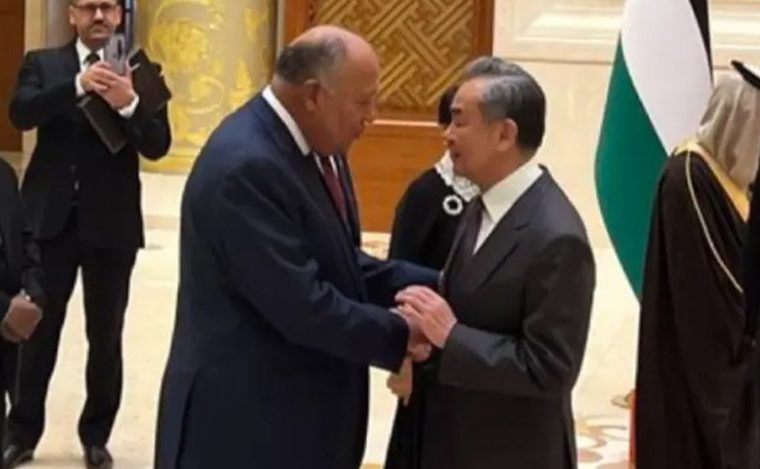 Shoukry made his remarks as part of a delegation of top foreign policy officials from Arab-Muslim nations, including foreign ministers of Indonesia, Saudi Arabia, Jordan, alongside the Palestinian Authority and the Organisation of Islamic Cooperation Secretary-General.
The delegation embarked Sunday on a tour to capitals of United Nations Security Council (UNSC) members with the aim of mustering support for ending the Gaza war. 
Egypt's top diplomat expressed his dissatisfaction with not calling the Israeli violation by its name. "Unfortunately, some parties do not call the blatant Israeli violations and war crimes by their true description," Shoukry added.
He urged the UNSC to fulfil its responsibility to protect international legitimacy, saying: "That is China's position that we know and expect."
The ministers stressed the vital role that China plays internationally, as a permanent member and current chair of the UNSC, according to Ahmed Abu Zeid, the ministry's spokesman.
Additionally, Shoukry reaffirmed the Egyptian and Arab stance against the displacement of the Palestinians as "a red line" that would "threaten peace, security, and stability in the region and the world."
"Egypt is making every effort to deliver aid to Gaza through the Rafah Crossing, but Israel's policy of obstructing aid entry is systematic to force Palestinians to leave Gaza under the continued bombardment and siege," Shoukry added during the meeting.
Saudi Foreign Minister Prince Faisal bin Farhan Al Saud, who is heading the delegation, called for an immediate cease-fire and the entry of humanitarian and relief aid to the Gaza Strip, according to AP.
"This is not Israel's first war against the Palestinian people," said Riyad Al-Maliki, the Palestinian Authority foreign minister.
"There are still dangerous developments ahead of us and an urgent humanitarian crisis that requires an international mobilization to deal with and counter it," he said.
"However, Israel wants this to be its last war, where it takes full control of the Palestinian people's presence on what is left of the historical land of Palestine," he added.
The delegation also expressed complete rejection of the war waged by Israel "against the concept of the two-state solution and against the mere existence of the Palestinians on the land of the State of Palestine," according to a statement released by the Saudi Ministry of Foreign Affairs.
The ministers chose to start their tour of world capitals in Beijing, a testament to both China's growing geopolitical influence and its longstanding support for the Palestinians, AP said.
The delegation is piling pressure on the Western countries, who are supporting Israel's war, to reject Israel's justification of its actions against the Palestinians as self-defence, according to Reuters.
According to AFP, China's foreign minister confirmed at the meeting that Beijing is "a good friend and brother of Arab and Muslim countries."
"We have always firmly defended the legitimate rights and interests of Arab and Muslim countries, and have always firmly supported the Palestinian people's efforts to restore their legitimate national rights and interests," he said.
Wang told the foreign diplomats that their decision to start in Beijing shows their high level of trust in his nation.
"China firmly stands with justice and fairness in this conflict," Wang asserted.
The delegation is expected in Moscow on Tuesady, as a second step on its mission.
They will have a meeting with Russian Foreign Minister Sergei Lavrov, Russian foreign ministry spokeswoman Maria Zakharova told state RIA News Agency.