Egyptian Chief of Staff affirms importance of joint work with Sudan to face common challenges in security
Last week, Egypt and Sudan's air and special forces began a joint air drill dubbed 'Nile Eagles 2' at Marwa Air Base in Sudan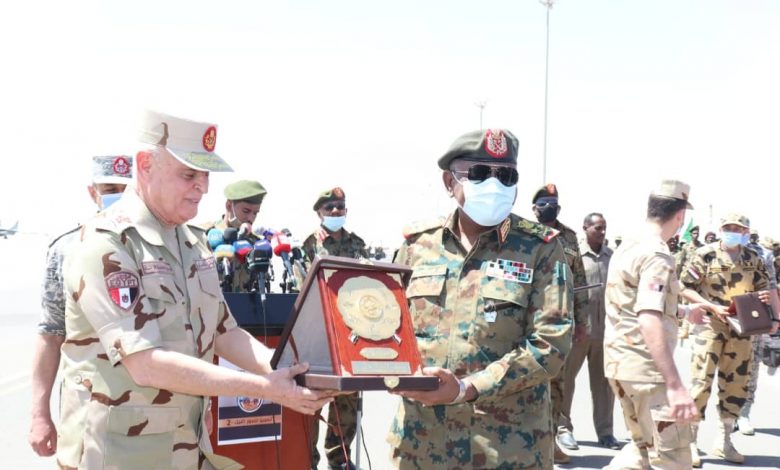 Egypt reiterated on Sunday the importance of joint work with Sudan to face common challenges in the security and safety of their borders as a joint aerial exercise, held in a Sudanese air base, between both countries' air forces concluded.
In press statements reported by the state-run Sudanese News Agency (SUNA), the Egyptian army's Chief of Staff, Lieutenant General Mohamed Farid Hegazy, stressed the necessity of "working together against common challenges along the borders".
Last week, Egypt and Sudan's air and special forces began a joint air drill dubbed 'Nile Eagles 2' at Marwa Air Base in Sudan.
He said the Egyptian armed forces stand united with their Sudanese counterparts for a secure and promising future.
The participating units carried out intensified training activities, the first stage of which started with refining skills to manage joint air operations with high efficiency.
The troops also conducted joint sorties to attack hostile targets and protect vital targets with the participation of a multirole fighter aircraft.
Hegazi said that the exercise saw positive development in all of its stages during its first and second editions in regards to preparations, planning, and implementation.
Hegazi reiterated the speedy implementation of an upcoming exercise to complete an exchange of expertise to maintain both countries' national security.
He said that the exercise, which came under the framework of cooperation between both countries' armed forces, was strategic to joint military cooperation and contributed to bolstering the security of both countries.
The Chief of Staff of the Sudanese Armed Forces, General Mohamed Osman Al-Hussein, praised participants of the exercise, affirming the importance of the exercise in boosting relations between Egypt and Sudan and integrating their national security.
He said that the joint exercise with Egypt "is not targeting a certain country", without providing further details.