Egypt's Shoukry discusses stalemate in GERD negotiations with Jared Kushner
Foreign Minister Sameh Shoukry is in the US for a mediated meeting with Ethiopia and Sudan on the dam project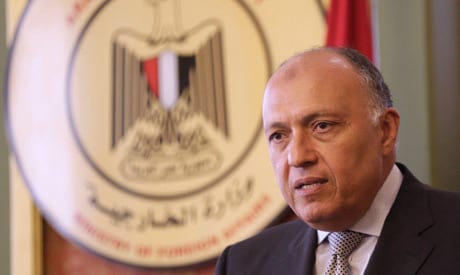 Egypt's Foreign Minister Sameh Shoukry has presented to White House Senior Advisor Jared Kushner "the reasons behind the hampering of negotiations on the Grand Ethiopian Renaissance Dam due to unresponsiveness by the Ethiopian side," a day ahead of a scheduled US-mediated meeting that will bring both sides together in Washington DC.
According to an official statement by the Egyptian foreign ministry, Shoukry, who is in the US, reviewed with Kushner Egyptian efforts since 2014 to reach a fair agreement that achieves the interests of Cairo, Khartoum, and Addis Ababa.
Ethiopia, Egypt and Sudan have accepted a US invitation to discuss breaking the deadlock in negotiations over the GERD, which has been the source of a deepening spat between Cairo and Addis Ababa in recent months.
The talks, which will be convened by US Treasury Secretary Steve Mnuchin, will also be attended by World Bank officials.
Egypt President Abdel-Fattah El-Sisi has said that he is confident the meeting will break the stalemate.
Egypt fears the GERD, which is at the heart of Ethiopia's plans to become a regional power hub, will diminish its water supplies from the Nile.
Ethiopia maintains, however, that the 6,000-megawatt hydroelectric dam, which is nearly 70 percent complete, will not have negative effects on downstream countries Sudan and Egypt.
The meeting between Shoukry and Kushner also saw discussions on a number of regional issues of bilateral interest, including the Palestinian cause, peaceful resolutions for the Libyan and Syrian crises, and the necessity of putting an end to "Turkey's destructive role in the region" and ending its "illegitimate occupation of parts in northern Syria."