Emmanuel Macron: Violence, Chaos Must Not Prevail In Lebanon Donors Have to 'Act Quickly'
Donors to 'act quickly' at UN virtual conference on aid for Lebanon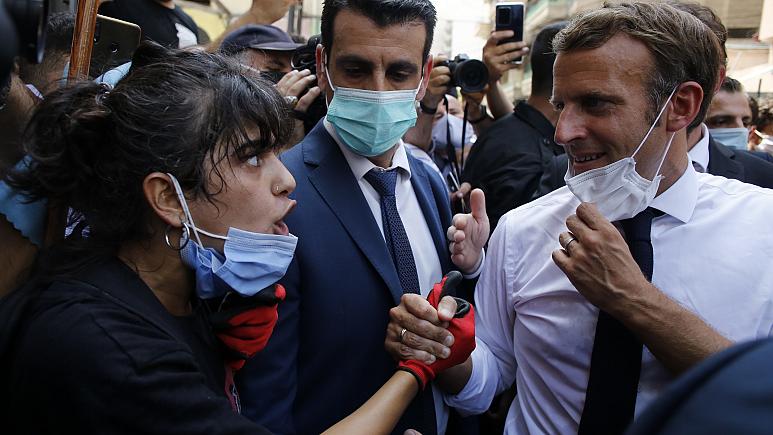 French President Emmanuel Macron and the United Nations are co-hosting a virtual donors' conference Sunday to solicit international aid for Lebanon, whose capital Beirut was devastated by explosions on Tuesday that left more than 150 people dead and a quarter of a million homeless. 
"We must act quickly and efficiently so that this aid goes directly to where it is needed," Macron said in his opening remarks for the UN-backed donors' conference, which is being held by video link. 
Macron also called on the Lebanese government to act responsibly to safeguard the country's future.
"It is up to the authorities of the country to act so that the country does not sink, and to respond to the aspirations that the Lebanese people are expressing right now, legitimately, in the streets of Beirut," Macron said.
"We must all work together to ensure that neither violence nor chaos prevails," he added. "It is the future of Lebanon that is at stake."
The European Commission on Sunday added €30 million to the €33 million it pledged on Friday to finance emergency aid to Lebanon.
But some foreign governments have been wary about writing blank cheques to a government perceived by its own people to be deeply corrupt.
The blast at the Beirut port, blamed on a vast store of ammonium nitrate that was allowed to rot for years in a warehouse, killed more than 150 people and left a quarter of a million homeless.
The explosions amplified the anger of many Lebanese. The political class was already under enormous pressure from a protest movement that rejects it as inept, corrupt and beholden to the country's myriad sectarian groups rather than the national interest.
Battling runaway inflation, mass unemployment and rising poverty, the government is struggling. Many have seen their life savings simply evaporate. And despite weeks of talks, the cabinet failed to reached a deal with the International Monetary Fund on a rescue package after Lebanon defaulted on its debt earlier this year.
'The people doing the clean up are mostly volunteers'
Calls for transparency
Macron on Thursday became the first world leader to visit Beirut after Tuesday's double explosion and warned Lebanese leaders that while international aid would be forthcoming deep change was needed to resolve the country's problems.
Speaking in Beirut during his visit, Macron said that the conference aimed to mobilise funding from Europe, the US and regional states to provide medicine, care, food and housing, but he also called for transparency and said any aid would go "directly to the people" as well as relief groups.
"We will also put in place clear and transparent governance so that all of this aid – whether it is French aid or international – is directly channelled to the people, to NGOs, to the teams in the field who need it, without any possible opacity or diversion," he said.
Prime Minister Hassan Diab has said he would soon be calling for early elections amid the anger of many Lebanese, thousands of whom took to the streets in anti-government protests on Saturday. A group of protesters led by retired Lebanese army officers also stormed the foreign ministry.
Emergency response
An "emergency response framework" drafted by the United Nations said $66.3 million was needed for immediate humanitarian aid for Lebanon, including health services for the injured, emergency shelter for those whose homes were destroyed, food distribution and programmes to "prevent further spread of Covid-19".
Phase II of the plan will require $50.6 million to rebuild public infrastructure, rehabilitate private homes and prevent disease outbreaks.
More than 30 international leaders and government officials took part in the video conference co-organised by France and the United Nations on Sunday, including US President Donald Trump, Jordan's King Abdullah II and Egypt's President Abdel Fattah el-Sissi.  
Key Arab states in the Gulf, including Saudi Arabia, Qatar, Iraq and the UAE were represented as were Britain and China.
Turkey and Russia, absent from the conference, are expected to provide aid as well, Macron said in his opening speech.
Lebanon's President Michel Aoun, UN aid coordinator Mark Lowcock and representatives of the World Bank, the Red Cross, the IMF and European nations also took part.
Iran, which wields huge influence in Lebanon through the Shiite group Hezbollah, was not on the list of participants. Israel, with whom Lebanon has no diplomatic relations, was not at the conference but has offered aid. 
Macron, who helped host the conference from his summer residence on the Mediterranean, has said he will be returning to Lebanon on September 1 to check on the country's progress.