For the second time in a week… Ghannouchi being evicted from a mosque in Tunisia-Video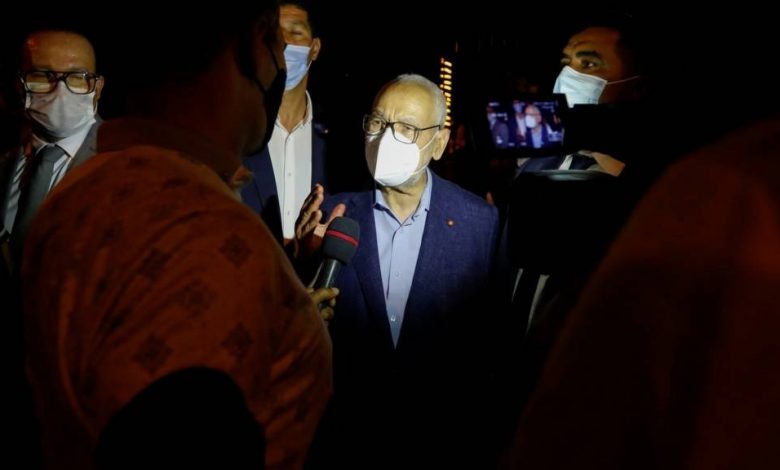 For the second time in a week, Tunisian citizens in Ben Arous governorate evicted the leader of the Ennahda movement and the speaker of the defunct parliament, Rashid Al-Ghoushi, from a mosque in their city during Tarawih prayers.
"Oh Ghannouchi, you thug"
Citizens gathered in front of the mosque, shouted slogans at Rashid Ghannouchi, "Oh Ghannouchi, thug, you are killing souls" and "Tunisia is free, free, and the Brotherhood stands outside," and asked him to leave the place, prompting him to flee prompted when video clips circulated on the communication sites: The celebrity at the moment of his withdrawal from the mosque, under security protection.
While the movement did not deny that its leader had been expelled, it did claim in a statement that "an unknown party has assigned a hired group to carry out a specific task and has been waiting for Ghannouchi to come out to attack him and create the illusion." to make expulsion from him."
Two days ago, the Ennahda leader witnessed a similar incident in the Malasin area on the outskirts of Tunis, where dozens of citizens evicted him and refused to enter their city's mosque to offer tarawih prayers with them when they shouted at him : "Go, criminal, you have no place in Tunisia."
The worst in the country
Notably, these scenes reflect the decline of Ghannouchi's popularity among Tunisians, which was also reflected in the monthly opinion polls conducted by opinion-forming institutions, as he tops the list of the country's worst political figures whom Tunisians don't trust and don't want to see they play any role.
In the most recent opinion poll conducted last March by the specialist Sigma Konsai Foundation, Ghannouchi ranked first with 88 percent in the overall index of distrust among the country's political figures.
This incident is not the first in which the speaker of the dissolved parliament was expelled, as he has previously faced similar incidents more than once in several Tunisian cities from citizens who reject him and the Ennahda movement.