Israel Bombs Medical Complex in Khan Yunis, Amassing War Crimes
The Nasser Medical Complex has come under the direct fire of Israeli warplanes, killing at least eight Palestinians so far.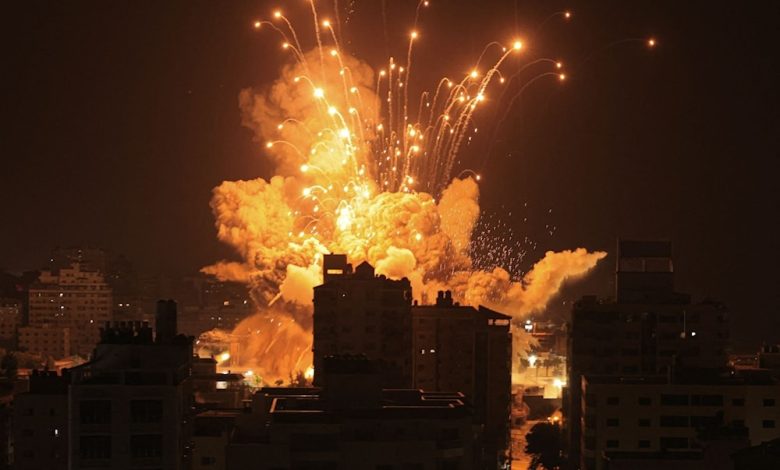 An Israeli airstrike on the Nasser Medical Complex in the southern governate of Khan Yunis killed at least eight people and injured dozens, on Tuesday, according to the Ministry of Health in Gaza.
This comes after Israeli authorities forcibly displaced Gazans to southern areas in the Strip, claiming they would be safe there. However, a substantial number of bombs and shells have targeted residential blocks and civilian infrastructure, such as the Nasser Medical Complex, confirming the occupation's sheer brutality.
The Nasser Medical Complex includes a pediatrics section, which was hit directly and indirectly by Israeli bombs.
In the northernmost part of the Strip, the occupation targeted the vicinities Kamal Adwan and Al-Quds hospitals, located in Beit Lahia and the northeast of Sheikh Zaid.
The Palestinian Red Crescent Society (PRCS) explained that an Israeli bomb struck just 50 meters away from Al-Quds Hospital in Gaza City overnight.
Undersupplied hospitals; an Israeli target
The PRCS issued a statement, alerting international organizations of the critically low fuel supplies at the hospital. The PRCS urged international health and relief organizations "to provide essential aid and supplies to the Gaza Governate and the northern region."
The humanitarian organization warned that fuel will run out of Al-Quds Hospital within the next 48 hours, as the occupation continues to destroy existing energy sources, as well as prevent the entry of fuel into the Strip.
Al-Quds Hospital contains "life-saving equipment, neonatal incubators, and intensive care units," all of which "will cease to function" when fuel runs out, killing dozens of patients in one go.
Bombardment of the hospital's vicinity has taken place non-stop for the past week, the PRCS explained. It revealed that this caused more than 60 injuries among healthcare workers, patients, and displaced people taking refuge in the hospital's courtyards.
On Monday afternoon, the Ministry of Health in Gaza announced that the number of martyrs in the Strip has reached 10,022, including 4,104 children.
Instead, the Biden administration has opted to equip the occupation with US-made bombs to amass its civilian kill count.
Israeli airstrikes have concentrated around residential areas and civilian infrastructure, destroying essential facilities, including bakeries, water filtration systems, fuel depots, hospitals, and schools. "Israel" is yet to be held accountable for its continuous violation of international law and covenants, as the United States continues to block any condemnation of the occupation's actions in UN Security Council sessions.