Jair Bolsonaro "Brazilian President" will move embassy to Jerusalem
The Brazilian president said, both before and after he was elected, that he would move the embassy, but backed down from the promise earlier this year.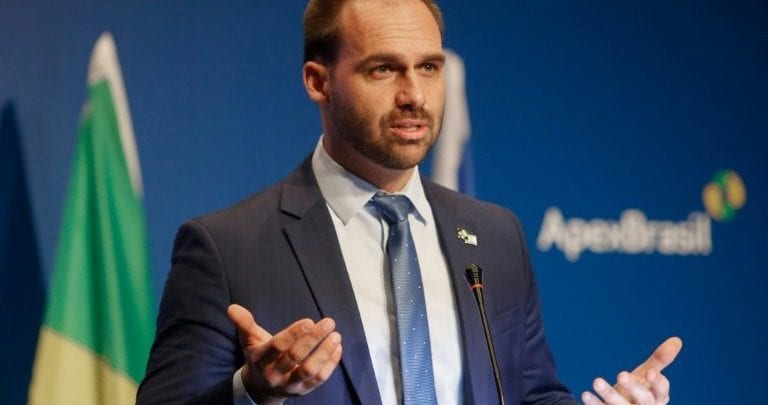 Jair Bolsonaro Brazilian President  will move his country's embassy to Jerusalem in 2020, his son, MP Eduardo Bolsonaro, said on Sunday at the opening of a Brazilian trade mission in the capital.
"As my father says, the commitment still stands," said Bolsonaro, chairman of the Brazilian Chamber of Deputy's International Affairs and National Defense Committee, and an enthusiastic supporter of Israel. "He will move the [Brazilian] Embassy to Jerusalem. It's not something extraordinary. It's supposed to be a natural and normal thing. We want to move to Jerusalem not just for Brazil, but to set an example for all of Latin America."
The Brazilian president said both before and after he was elected that he would move the embassy, but backed down from the promise earlier this year. MP Bolsonaro also vowed that Brazil will recognize Hezbollah as a terrorist organization, saying, "we will fight terrorism together. If we want to prevent a terrorist attack, we must show strength."
Prime Minister Benjamin Netanyahu expressed appreciation for Brazil opening its trade office in Jerusalem. "We have no better friends than the people and government of Brazil… Israel will always be there for the citizens of Brazil," he said, mentioning the Israeli disaster relief efforts there.
Netanyahu said that much progress has been made toward fast, direct flights between Israel and Brazil, which could encourage tourism, business and technological exchanges. "A trade office can help Brazil and Israel realize the potential for cooperation between us," he said. "Israel is the most dynamic, innovative country in the world…if we merge our country's potential with Brazil's potential, we can help one another extraordinarily."
Netanyahu spoke at the opening in the capital of a trade office for Apex-Brasil, the Brazilian Trade and Investment Promotion Agency. The prime minister also spoke with President Bolsonaro in a video chat using MP Bolsonaro's phone.
Apex-Brasil in Jerusalem operates under Brazil's Foreign Ministry, but does not have diplomatic status. Brazilian media has said that the move is a political one – to appeal to the government's religious Christian base – but will stop short of harming relations with Arab states, which have much more trade with Brazil than Israel. Only 0.17% of Brazil's exports go to Israel, as opposed to 4.8% to Arab League countries.
The opening of the office is part of Netanyahu and the Foreign Ministry's concerted effort to have countries recognize Jerusalem as Israel's capital and move offices and embassies there. The US and Guatemala have their embassies in Jerusalem, and Honduras is expected to move its embassy to Jerusalem in the coming weeks. Honduras, Hungary, Australia and the Czech Republic have trade offices in the capital, and Slovakia and Ukraine are expected to open such offices.
The elder Bolsonaro mentioned the Apex-Brasil office opening at an event on Friday, saying, "My son Eduardo is in Jerusalem with Benjamin Netanyahu. We are opening an Apex business office in Jerusalem. We believe in God and are looking for the best for the country."
Earlier this month, he said that he still would like to move the embassy. "It is only symbolic, but it is worth a lot to those who believe in God." The Apex-Brasil office in Jerusalem will be managed by Camila Torres Meyer, who was a trade analyst at the export institute for the past 12 years.