Libyan army sends additional forces to Sirte, and Al-Wefaq insists on the battle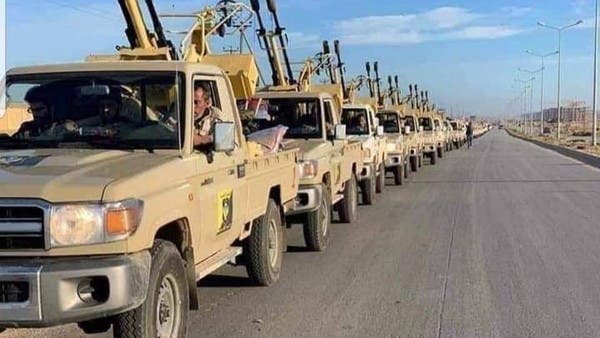 Libyan army pushed additional military reinforcements to the axes of the city of Sirte, in order to support the military units present there, in anticipation of a possible attack by Al-Wefaq government forces to seize control of this strategic city located in central Libya.
The media center of the Al-Karamah Operations Room of the General Command of the Libyan Army said that the "Battalion 302 Thunderbolt" forces had gone to Sirte, and published photos that showed dozens of military vehicles and their personnel moving towards the city of Sirte.
On the ground, the director of the Libyan Army's Moral Guidance Department, Brigadier Khaled Al Mahjoub, told Al-Arabiya.net and Al-Hadath.net that calm prevails today on all fighting axes in the city of Sirte, but does not rule out a possible military escalation in the coming days, especially in The Al-Wefaq government maintained the Sirte battle, by launching unfair and incapacitating conditions to accept calls for a ceasefire and engage in dialogue to resolve the Libyan crisis.
On Saturday, the Minister of the Interior, Fathi Pasha Agha, announced in a post on his Twitter site, that the reconciliation government welcomes any initiatives to end the political crisis and unify the institutions of the Libyan state, provided that these initiatives include the sovereignty of Libya and the civil authority that governs the will of the people and the submission of the army to civilian authority, hinting To the necessity of excluding the commander of the army, General Khalifa Hifter, from any upcoming settlement or upcoming dialogue.