Mbappe: I spoke with Messi and Neymar before rejecting Real Madrid's offer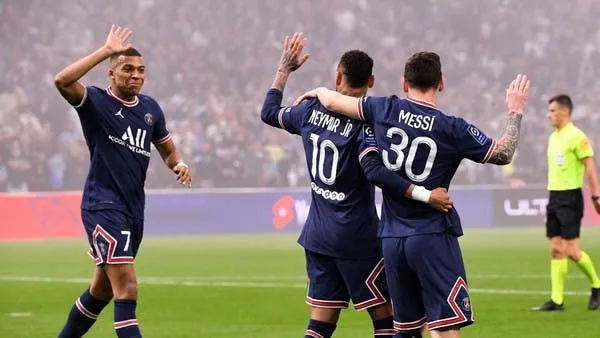 French star Kylian Mbappe, the Paris Saint-Germain striker, revealed that he discussed his fellow Argentinean Lionel Messi and Brazilian Neymar about his move to Real Madrid, before announcing the renewal of his contract with the capital club.
The past years witnessed serious attempts by Real Madrid to include the French star, the first was last summer, when it was reported that the capital club offered an offer amounting to 180 million euros to contract with him, before attempts continued that the agreement between the two parties was inevitable in the past two weeks, but the 2018 World Cup champion announced a renewal His contract with his team until 2025 on Saturday.
Mbappe explained during a press conference on Monday about the announcement of the renewal of his contract: "It was a difficult season, but we talked a little bit, because they respected that it was a personal decision, so they understood."
And the top scorer of the French League and the player who created the most goals added: Whether it is Paris Saint-Germain or Real Madrid, these clubs do not need to convince you to play for them because it is an honor for any player to play for one of the two teams, and I am now accompanied by great players and this is what I wanted. Before I made the decision, I spoke with Messi and Neymar and they told me that it is a personal matter and they will respect it, whether it is the renewal or the transfer.
And about his contact with Real Madrid president Florentino Perez, Mbappe added: I called Perez to respect him a lot, because Real treated me with great respect, so it was my duty to speak to him personally. Real Madrid fans considered me one of them last time so I should be grateful and I hope they understand my decision to stay in France. I am French so I must continue to lead France and the club to success.
Mbappe scored 39 goals in all competitions this season, behind each of the French Karim Benzema, 44 goals, and the Polish Robert Lewandowski, 50 goals in the five major leagues.