Pro-Erdogan Committee Condemns Boycott of Israel (BDS) movement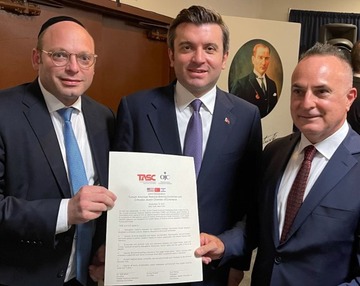 Turkish-American National Steering Committee (TASC), known for its close ties to Turkish President Recep Tayyip Erdogan's government, signed a joint declaration with the Orthodox Jewish Chamber of Commerce (OJC) supporting enhanced trade with Israel, regional peace and condemning the stance of a pro-Palestinian movement around the world.
TASC and the OJC opposed the Palestinian-led Boycott, Divestment, Sanctions (BDS) movement, which has campaigned in Western countries against Israel's trade from the occupied territories.  
"BDS emboldens extremism and emboldens the people which BDS claims to represent," TASC and the OJC reportedly stated.
The two organisations pledged to increase regional peace and prosperity through initiatives such as the Abraham Accords, a series of U.S. brokered agreements in 2020 aimed at normalizing relations between Israel, the United Arab Emirates (UAE) and Bahrain. They promised to stand together against "prejudice, hatred, anti-Semitism, Islamophobia and anti-Turkism".
Metin Gürcan, a founding member of the Turkish Democracy and Progress Party (DEVA), published a copy of the alleged declaration on Twitter.  Turkish Deputy Foreign Minister Yavuz Selim Kıran was seen in the photo holding the document. Erdoğan attended a meeting of TASC earlier this week in which he called on U.S. investors to trust in Turkey and put money to work in the country.
As recently as August 2020, Turkey strongly condemned the UAE for signing its accord with Israel, labelling it as a betrayal. Erdoğan's ruling Justice and Development Party (AKP) described the agreement as "political suicide" against the Palestinian cause.
Turkey is seeking to mend ties with Israel and Arab states after the November election of U.S. President Joe Biden, who is seeking to reinvigorate U.S. diplomacy and good relations between governments in the Middle East. Ties between Erdoğan and Biden have been undermined by issues including the latter's condemnation of Israel and Turkey's fractured relationship with the United Arab Emirates, Saudi Arabia and other U.S. regional allies.
In May 2018, Turkey expelled Israel's ambassador and recalled its own envoy in Israel over Israeli attacks on the Palestinian enclave of Gaza and a decision by the United States to move its embassy to Jerusalem from Tel Aviv. Relations between Turkey and Israel began to fracture in 2010 after Israeli soldiers raided a Gaza-bound humanitarian aid flotilla, killing ten pro-Palestinian activists aboard Turkish ship the Mavi Marmara. 
Turkey's close ties with the militant Islamist group Hamas, designated as a terrorist organization by Israel, the United States and the European Union, have proven another key stumbling block to restoring diplomatic ties.
Erdoğan has called on Muslim nations around the world to unite in the face of Israeli bombardments of Gaza, labelling the military campaigns as despicable attacks on Muslims. He has also called Israel a "cruel terrorist state".
TASC bills itself as an educational and advocacy group for Turkish-Americans and a promoter of better relations between the U.S. and Turkey. But it has been notable for channelling Turkish government views in its public statements and on its television network TASC-TV. 
TASC has also been involved in organizing public campaigns in support of Turkey.
In July 2020, vans carrying banners commemorating the failed 2016 coup drove through New York, Washington D.C and Saylorsburg, Pennsylvania, where exiled Turkish cleric Fethullah Gülen resides. The Turkish government accuses Gülen of orchestrating the putsch. TASC co-chair Murat Güzel said the protests were aimed at informing the American public. Güzel is known as a Muslim Brotherhood lobbyist in the United States.
TASC's board has several direct connections with Turkey and Erdoğan. The organisation's listed headquarters is at the Turkish House in Washington D.C., a property owned by the Turkish government.
Halil Mutlu, a board member of TASC, is a cousin of Erdoğan.
Evinch's law firm was retained by the Turkish Embassy after the May 2017 protests outside the Turkish Ambassador's residence during Erdoğan's first visit to Washington D.C. in the Trump era. It went on to represent Erdoğan's bodyguards in legal proceedings investigating the ensuing clashes that saw several protestors injured. As of June 2020, Evinch and his firm are registered as foreign agents of Turkey. 
TASC's other co-chair Gunay Evinch, a lawyer at the law firm Saltzman & Evinch in Washington, has been connected to Turkish interests in Washington D.C. for over three decades.
According to the District of Columbia's business registry, TASC is operated as a non-profit corporation which would require a letter certifying this status from the Internal Revenue Service. TASC does not have a publicly available report detailing their funding.