Resistance Shells Settlements Following Nablus Massacre, IOF Strikes Gaza
In response to the recent Israeli aggression in Nablus, Palestinian resistance factions in Gaza target settlements adjacent to the Strip with several missiles.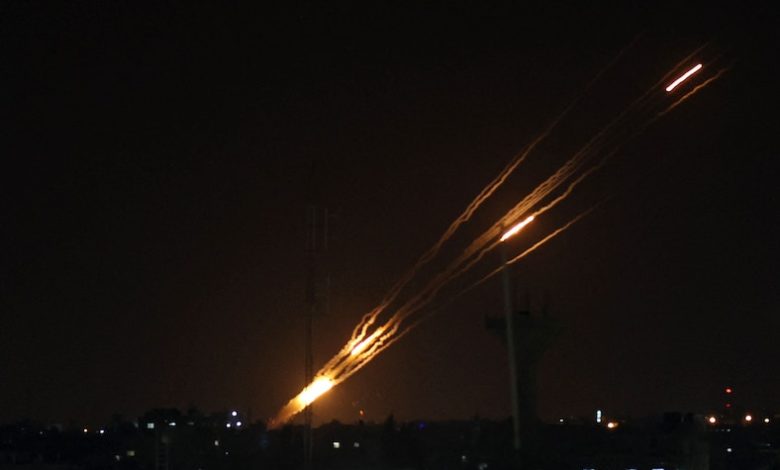 At dawn today, the Palestinian resistance responded to the occupation's raids on Gaza with several missiles, targeting settlements in the Gaza Strip, amid overflights by occupation warplanes.
Our correspondent in Gaza reported sirens heard in the settlements of the Gaza envelope.
Simultaneously, a spokesperson for the Israeli occupation army said that warning sirens were activated in "Askalan", "Sderot", and the Gaza envelope after six rockets were launched from the Gaza Strip.
Israeli warplanes launched at dawn today multiple missiles at a Palestinian resistance site in Al-Shati' refugee camp, west of Gaza City, as well as another in Al-Bureij city, central Gaza Strip.
According to local media, the warplanes bombed the Badr site northwest of Gaza City with a missile using a helicopter.
Eyewitnesses reported that around two hours before the Israeli raids, eight rockets were fired from the Gaza Strip toward the occupied territories bordering the Strip.
A source in the Islamic Jihad movement told our reporters that its members fired a barrage of rockets at the settlements around the Gaza Strip in response to the Nablus massacre in the northern West Bank, where Palestinians were martyred by Israeli occupation forces.
Eleven Palestinians, including a young boy, were martyred, and more than 100 others were wounded by live fire, in confrontations that erupted between Palestinian Resistance fighters and Israeli occupation forces after the latter stormed the northern occupied West Bank city of Nablus on Wednesday morning.
A martyr in Jenin
Simultaneously, the Palestinian Health Ministry confirmed on Thursday morning the death of a young man who was shot and seriously injured by Israeli soldiers in Jenin, in the northern West Bank, two weeks ago.
The Health Ministry identified the young man as Mohammad Nabil Fawzi Abu Sabah, 29, and added that the soldiers shot him in the abdomen.
Amid the West Bank's volatile situation, armed resistance fighters in Tulkarm Governorate, in the northern West Bank, announced the formation of a "Rapid response unit / Tulkarm Battalion" group on Wednesday night.
A group of masked gunmen confirmed their march down the path of martyrdom and announced that they had shot at occupation soldiers stationed at the Al-Taybeh checkpoint near Tulkarm before midnight last night.
This comes as the Israeli occupation continues its aggression in the occupied West Bank, particularly in the cities of Jenin and Nablus. 
This is the first time that resistance fighters appear in Tulkarm Governorate in front of cameras to announce the formation of an armed battalion since the end of the second intifada in 2005.