Turkey: The black files that haunt Erdogan..Uglo stands out from his old friend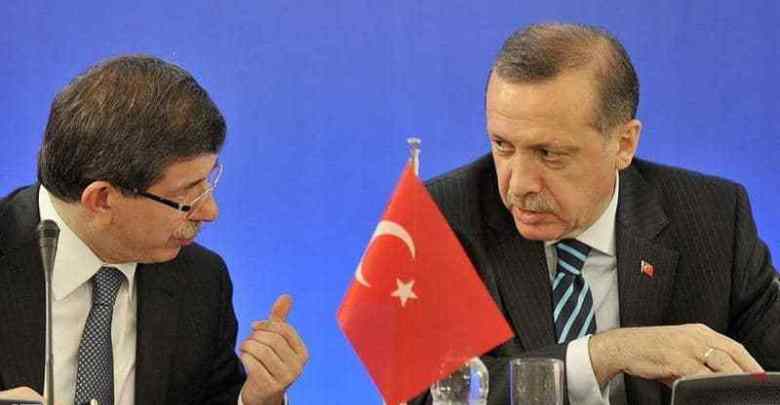 Former Turkish Prime Minister Ahmet Daoud Oglu is back in the spotlight, with the threat of exposing his former comrade, the current Turkish president, Recep Tayyip Erdogan.
"Many cases on terrorism, if they are open, they will not face people," said Ahmet Daoud Oglu to the press. "I tell you the truth."
He added that the period from 1 June to 1 November 2015 is the most dangerous and difficult political period in Turkey's history.
Ahmet Daoud Oglu talks about the period in which the AKP government launched terrorism charges against HDP members after the success of its parliamentary elections and the formation of a bloc in parliament.
Erdogan then decided to reorganize the elections after suddenly ending the peace talks with the Kurds.
Ahmet Daoud Oglu does not miss an opportunity to distance himself from Erdogan's accusations of "betrayal" and his alleged involvement with the Western powers to oust him from the presidency.
It seems that the former Turkish prime minister wants to stay away from the sinking Erdogan ship, with reports of his intention to create a new political party to compete in Turkish political life.
The electoral backlash in Istanbul, which removed the AKP from one of its most important traditional fiefdoms for years, is a natural consequence of the grave decline in the party's discourse, values ​​and policies, as well as the country's president, who insisted that the elections be re-elected.
After the defeats, Erdogan's former comrade appeared last April in a statement attacking the policies of the ruling Justice and Development Party (AKP) in Turkey, claiming that he was behind the setbacks.
The Turkish press has recently published articles on the establishment of the seat of a new party, which will be led by Daoud Uglo.Since then, the Turkish media have hinted that Davutoglu is about to launch a new political party.
A source close to Daoud Uglo said the new party would be established in 70 of the 81 Turkish provinces.
Daoud Uglo became prime minister when Erdogan was elected president in 2014, but was later dismissed after disagreements with Erdogan and resigned in 2016.
A few weeks ago, one of the founders of the ruling AKP, former Economy Minister Ali Babacan, resigned and recently confirmed his rally to Daoud Uglo.