UN: Israel's Gaza evacuation call could breach "International Law"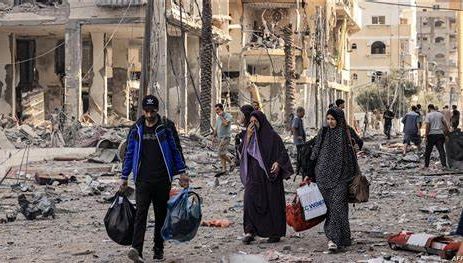 Israel's siege of Gaza and call for an evacuation of more than 1.1 million civilians ahead of an expected ground invasion could amount to the forcible transfer of civilians — a breach of international law — the U.N. human rights office said Tuesday.
The Israeli government has throttled Gaza, a 25-mile-long enclave is home to 2 million people, sealing it off from aid deliveries amid blistering airstrikes and a looming ground offensive aimed at ending Hamas power in the territory for good.
On Tuesday, Palestinian officials said 2,778 people have been killed in Gaza. Almost 10,000 there have been wounded, and the health system is close to collapse as dwindling fuel supplies threaten a total blackout.
The conflict also risks reactivating regional fronts where Iran, Israel's archenemy, has other allied forces. Four fighters from the paramilitary group Hezbollah were killed Tuesday as clashes flared along Israel's border with Lebanon, in some of the worst exchanges of fire since the Hamas attack 10 days ago.
Israel-Gaza war
Ravina Shamdasani, a spokeswoman for the United Nations' High Commissioner for Human Rights, said that Israel had a duty "as the occupying power" to ensure that evacuees had access to food, clean water and other basic necessities — a reality made impossible by the closure of the territory's border crossings and the scale of the ongoing fighting.
Aid convoys are waiting at the entrance into Gaza from Rafah on the Egyptian border, but days of negotiations with Israel to allow them in have been unsuccessful.
"There appears to have been no attempt by Israel to ensure this for the 1.1 million civilians ordered to move," Shamdasani said. "We are concerned that this order combined with the imposition of a 'complete siege' on Gaza may not be considered as lawful temporary evacuation and would therefore amount to a forcible transfer of civilians — in breach of international law.
The term "forcible transfer" describes the forced relocation of civilian populations, a crime against humanity punishable by the International Criminal Court.
During Secretary of State Antony Blinken's trip this week around the region, several Arab leaders expressed concern about the possible permanent transfer of Palestinians out of Gaza. Many Palestinian families in Gaza are already displaced from land that the United Nations voted to partition as the state of Israel in 1948.
Islam Dhair, a father of four who lives in Rafah, said that he knew people who were waiting for a chance to cross into Egypt, but that he worried that they would not be able to return.
"We fear that Gaza will cease to exist if we leave," he said. He was staying in Gaza. Other families who had chosen to stay in the enclave's north expressed similar fears that if they abandon their houses, they would lose everything.