How Libya's war is poisoning Tunisia's politics
The war in neighboring Libya has further polarized Tunisia's political landscape and imperiled the country's fragile governing coalition.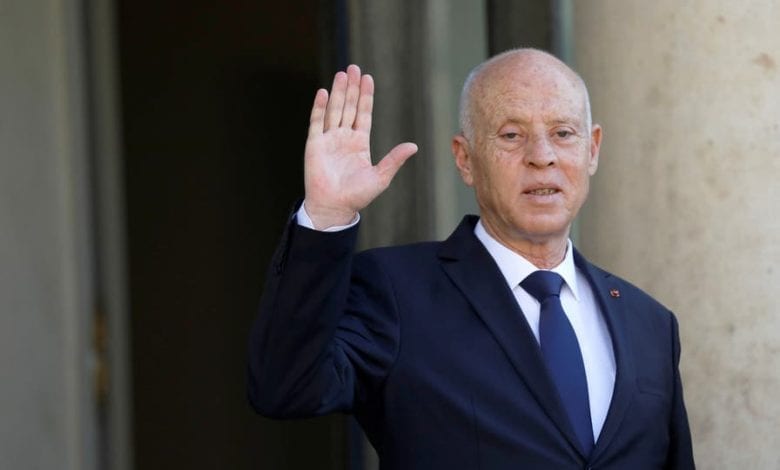 Tunisian President Kais Saied will be meeting with his French counterpart Emmanuel Macron at the Elysee palace on Monday, and the conflict in neighboring Libya will be a top agenda item. Saied's first visit to France, Tunisian's former colonizer and a leading economic partner, will be watched closely back home, where the war in neighboring Libya pitting the internationally recognized government of Fayez al-Sarraj against the beleaguered eastern warlord Khalifa Hifter has further polarized the political landscape and imperiled the country's fragile governing coalition.
Libya is the latest staging ground for the bitter rivalry between Turkey and the UAE-led blocs that is causing toxic spillover in Tunisia, hailed as the sole democracy to have emerged from the Arab Spring uprisings.
France — alongside the United Arab Emirates, Egypt and Russia — are the main backers of Hifter. The ruthless former general touts himself as a secular modernist, rescuing the country from the jaws of the Muslim Brotherhood-friendly Sarraj who is backed by like-minded Turkey and Qatar.
Tunisia's Muslim Brotherhood-oriented Ennahda leader, Rached Ghannouchi, and his Dignity Coalition allies are rooting for Sarraj. The opposition Free Destourian Party (PDL), founded by figures sympathetic to Tunisia's ousted dictator, the late Zine El Abidine Ben Ali, supports Hifter who is cut from the same authoritarian cloth.
Although Tunisia's official position is one of determined neutrality, "Everyone sees Tunisia as a platform to go to Libya," said Youssef Cherif, a Tunis-based analyst and head of Columbia Global Centers Tunis. 
"The conflict in Libya has deepened a divide that was already there. It's constructed on top of it, but couched in different language in which Ennahda is not pushing an Islamist discourse and the PDL, and its allies are focused on sovereignty issues rather than the secular state fighting terrorism," Cherif told Al-Monitor in a telephone interview.
Things have been going terribly for the general of late. Turkey's forceful military intervention with offshore frigates, drones, scores of Turkish military officers and thousands of Syrian rebel mercenaries in April tipped the balance in favor of Sarraj's Government of National Accord (GNA).
Now after years of inertia, Washington has begun to air its disgruntlement with Russia's expanding role on the side of Hifter. It began with the insertion of Wagner Group mercenaries and escalated with the deployment of MIG-29 and Su-24 fighter planes in support of the rebels.
"Russia's sustained involvement in Libya increases the violence and delays a political solution," US Marine Corps Brig. Gen. Bradford Gering, AFRICOM's director of operations, said in a news release. He accused Russia of "pushing for a strategic foothold on NATO's southern flank and this at the expense of innocent Libyan lives."
When news emerged that the Pentagon was sending military trainers to Tunisia, speculation that the United States was in fact planning to set up a base began to grow.
Tunisia's defense minister, Imed Hazgui, sought to put the lid on the rumors amid rising popular anger last week. "We do not allow any foreign force to be present in our country," he said. 
The United States plays a critical role in helping Tunisia secure its border with Libya against jihadist infiltration. The country was the target of a series of bloody attacks by Islamic State and al-Qaeda-linked militants, many of whom crossed over from Libya.
Seif Eddine Trabelsi, an analyst who closely monitors the Libyan conflict, reckons that the GNA's success will help stabilize the border. Moreover, it's hardly surprising Trabelsi argues that Tunisia is riveted by events unfolding in its large eastern neighbor and that ideology has no part in it.
Libya is Tunisia's top trading partner and its largest market. According to the World Bank, 24% of Tunisia's overall drop in gross domestic product growth between 2011 and 2015 was directly linked to the Libyan conflict.
"The two countries are intertwined by geography and by their peoples. Tunisian is an extension of Libya and vice versa. So what happens in Libya has a direct impact on Tunisia," Trabelsi told Al-Monitor in a telephone interview. "What really interests Tunisia in Libya is what happens in the west, because there is contiguity. It's the same territory." But its "two Asian powers" that will now have "a decisive say" on the future of Libya: Turkey and Russia, Trabelsi contended.
The fall of the strategic al-Watiya air base announced May 18 was a turning point, forcing Hifter to call off his more than one year campaign to capture Tripoli and beat a humiliating retreat. Ghannouchi, who is the speaker of the parliament, rang Sarraj to congratulate him on this victory.  All hell broke loose.
Saied aired his disgruntlement over Ghannouchi's meddling in foreign affairs. Under Tunisia's constitution, diplomacy is the president's preserve. "Everyone must recognize that there is only one Tunisia and one president both nationally and internationally," he said in comments to mark the Eid al-Fitr holiday. 
Tunisia's powerful General Trade Union, the UGTT, with over half a million members, has demonstrated against Turkish intervention and aired opposition to any increased US military presence, though it's said nothing about the UAE.
The PDL's resolutely anti-Islamist leader, Abir Moussi, called for an extraordinary session of parliament to pass a bill rejecting all foreign interference in Libya and the use of Tunisia as a staging ground for military operations there.
The bill was rejected during a marathon session that kicked off June 3 and ran for 20 hours, during which the 45-year-old Moussi grilled the septuagenarian Ghannouchi over his alleged subservience to Turkey and Qatar. 
Ghannouchi traveled to Turkey in January where he met with Turkish President Recep Tayyip Erdogan behind closed doors.  
It was apparently to make up for the fact that he did not meet with Erdogan when the Turkish leader came to Tunisia in December on an unplanned visit, reportedly to ask Saied to let him use Tunisia as a staging ground for Ankara's military intervention in Libya. Saied refused.
There is also speculation that Saeid prevented a meeting between Erdogan and Ghannouchi in Tunis. Ghannouchi and Saied are not on very good terms. Ghannouchi initially tried to co-opt Saeid. The Ennahda base helped clinch the presidency for the pious constitutional law professor in last year's elections. "But Saied rebuffed him and sought other allies. And now Ghannouchi is seeking to sideline Saied by playing his own foreign policy," Cherif said.
Sarraj and Turkey's giddying battlefield gains will have bolstered Ghannouchi's standing with his base.
But in the parliament, the outcome was seen as more of a victory for the opposition. Moussi, with only 16 seats in the 217 member legislature, mustered 94 votes in favor of the motion, just 15 votes short of the requisite 109 for its passage. More damagingly, the pan-Arabist Echaab and the business-friendly Tahya Tounes members of the ruling coalition government led by former finance minister, Elyas Fakhfakh, cast their ballots on the opposition's side.
The perceived betrayal prompted Ghannouchi to call for a Cabinet reshuffle. The fact that he chose to do so via the widely viewed Nessma TV, owned by his one-time nemesis and former presidential candidate Nabil Karoui, was widely interpreted as an invitation for the populist billionaire's Qalb Tounes party to join the government. Qalb Tounes has the second-largest number of seats in the parliament. "A parliamentary scene where the parties in power oppose one another is not normal and cannot last for long," Ghannouchi groused. He called for "a consensual government open to all those who wish to take part in it." 
The opposition says, however, that it's not up to Ghannouchi but rather Fakhfakh to decide whether to fire Cabinet members or not. "The Echaab movement will not quit the government. Only [the prime minister] can decide whether we stay or not, and not the Ennahda movement," fumed Echaab lawmaker Khaled Krichi in an interview with popular radio station Shams FM. 
But Fakhfakh, who emerged as a compromise candidate after months of trying to stitch together a coalition from Tunisia's fractured parliament, "is very weak," noted Cherif. Although he recently formed his own party — Tunisia's 222th grouping — "he lacks political legitimacy" and "because of the political divide now," he "risks losing his ministers." In any case, it's unclear that either Ghannouchi or Karoui would benefit from the turmoil that would likely ensue.
While Karaoui has been dropping hints that he may be willing to partner with Ghannouchi, the pair would face an uphill battle in forging a new coalition and Saied is unlikely to do them any favors.
Jalel Harchaoui, a Libya expert and fellow at the Hague-based Clingendael Institute, told Al-Monitor in a telephone interview, "The fact that the whole nation is forced to get caught in a foreign policy debate in the middle of an unprecedented economic crisis means that you are basically failing at your democratic experiment."
Tunisia's teetering economy is reeling from the effects of the coronavirus pandemic. The country has been lauded for its handling of the crisis and is planning to reopen its borders to tourists on June 27. The economy is nonetheless expected to shrink by up to 7% this year and unemployment is predicted to rise to a staggering 21%, much of it among youths. Voters would likely punish Ennahda if it were seen as triggering a government crisis that resulted in snap elections. The party remains the country's most popular and by far the best organized, but its poll numbers have been steadily dropping since rising to power in the aftermath of the Jasmine Revolution.
"It doesn't mean that it's the end of it, but it's something that should definitely raise red flags. What's happening in Libya is a military crisis that is being resolved using primarily military means, which means effectively, Tunisians, whatever they discuss, will not really impact what happens in any serious way. It should not dominate political debate."
Harchaoui added, "The principal parties in this ideological war between the UAE and Turkey means others nations will pick sides," with direct consequences for Tunisia. "For instance, France has sympathy for the UAE and Qatar for Turkey. All those countries have influence on economic decisions that need to be made for rescue packages for Tunisia."
Turkey, Qatar and the UAE are pouring oil onto the flames through a broad array of multilingual media networks they control, including in Tunisia. Turkey's pro-government titles claim that the UAE was planning a coup to topple Ghannouchi. The UAE-backed titles have circulated unsubstantiated claims that Ghannouchi is corrupt. 
Rafik Abdessalem, a member of Ennahda's executive board and a former foreign minister, agrees that the war in Libya has polarized his country. "But polarization is part of democratic life," he argued in a telephone interview with Al-Monitor. "If there's to be political conflict, it's better to have it in the parliament." Abdessalem agrees with his boss, however, that it's inappropriate for parties that are in the government "to act in league with the opposition."
A "modest Cabinet reshuffle" could take place and Qalb Tounes could come on board.
As for Ghannouchi's telephone call to Sarraj, "it was normal." Sarraj was the first foreign leader to visit Tunisia after parliamentary and presidential elections held last year and "the GNA is the internationally recognized government of Libya." Abdessalem continued, "We have a good relationship with Turkey because they supported our revolution. We are friends to any country that supports our revolution." The UAE and Saudi Arabia are in his eyes not among them. "They are trying to defeat nascent democracy in Tunisia," he said. When queried about Erdogan's rampant authoritarianism back home, Abdessalem declined to comment.