Sudanese government and armed movements reach an agreement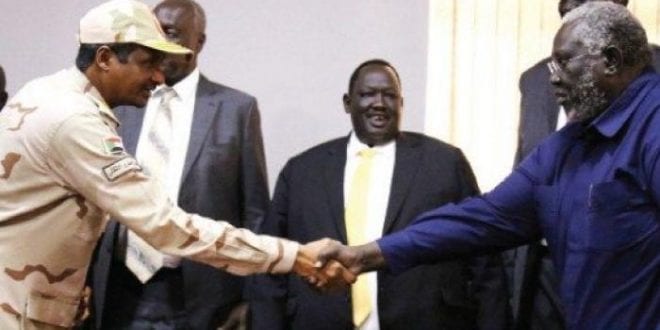 South Sudan's security adviser, Tut Gulwak, revealed a comprehensive agreement between the Sudanese government and armed movements in Juba yesterday and announced a negotiating meeting between the two delegations to announce the final agreement, the most important of which is stopping the war and continuing peace.
According to Al-Sayyah newspaper, Gulwak said that there are other agreements agreed upon for the benefit of the two regions, after the signing of the agreement between the two sides.
He said that the Sovereign Council has exerted great efforts to settle the dispute and implement what the armed movements demanded through demands and conditions that the Council deemed appropriate for an agreement to reconcile and stop hostilities and war together.
Gulwak promised that it would be the last step in the agreement embraced by Juba, which will take place today after the mediation of President Salva Kiir Mayardit between the parties and the success of reaching an agreement.
The Sudanese Prime Minister Abdullah Hamdouk, in his speech during the announcement of the birth of his government, stressed that its priorities are to stop the war and build peace, praising the efforts of the leaders of the armed struggle, and congratulated the Revolutionary Front for unification at the Juba Conference.
He also stressed that the armed movements are a genuine partner in the revolution, considering the circumstances as conducive to achieving peace.